Conveniently located between Toronto and Niagara, on the shores of Lake Ontario, is the
Town of Oakville
. Oakville is home to more than 200 parks and also has an abundance of natural beauty, including gardens, playgrounds, two harbors, and 31 waterfronts. There is a rich history in Oakville that dates back to its founding in 1857, evidenced by Oakville's diverse architectural styles. Today, Oakville is known for its shopping district, thriving arts communities, historical sites, and highly walkable neighborhoods.
Arts and Crafts
Around the late 19th century, an English architectural movement emerged which favored a return of craftsmanship over mass production and industrialized materials. Championed by designer and poet, William Morris, the Arts and Crafts style was a critique of 19th-century society with its factory production which Morris felt ruined natural creativity and craftsmanship. Closely related to the North American styles such as American Craftsman, American Bungalow, and American Prairie Style, Arts and Crafts style uses traditional construction, asymmetry, and took pride in craftsmanship to create homes with clear form and structure minus superfluous or overly ornate elements.
Frank Llloyd Wright
, a founding member of the Chicago Arts and Crafts Society, was a North American proponent of this architectural style.
Beaux-Arts Classicism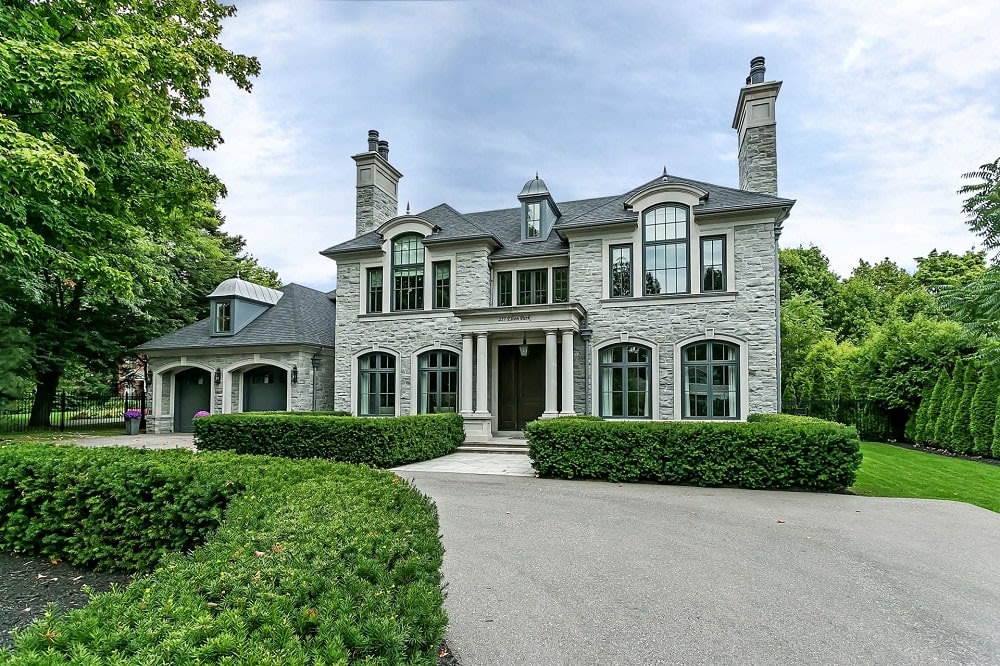 Photo courtesy of Goodale Miller Team
Beaux-Arts means "fine arts'' in French. This architectural style is a reinterpretation of Classicism. Popularized in North America in the early 20th century,
Beaux-Arts Classicism
utilizes elements of Greco-Roman styling and was developed at the Ecole des Beaux-Arts in Paris. Unlike the Arts and Crafts movement which focused on understated design elements and asymmetry, Beaux-Arts Classicism emphasizes symmetry and oversized classical elements. Because of the large, heavy construction of the Beaux-Arts style, it was rarely used in private home construction, but there are some grand examples of this style of architecture that can be found around Oakville, particularly in its historic Downtown.
Brutalism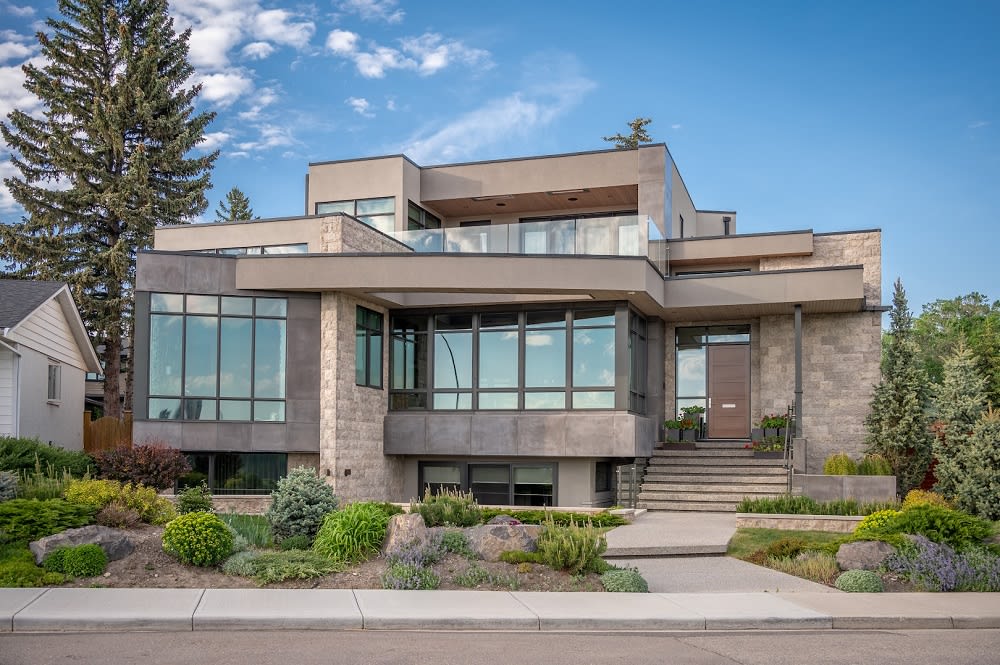 Photo courtesy of Shutterstock
Brutalism is defined by large, imposing proportions, heavy masonry, and concrete construction. What started in England amind post-war reconstruction efforts quickly found its way to Ontario as an attractive and easy solution to weatherproofing and climate controlling large structures. Most often used for universities and public buildings, Brutalist architecture is typified by highly textured surfaces with windows that generally do not open. There are, however, noteworthy examples of monolithic-yet-modern
suburban Brutalist
style used in Oakville luxury real estate.
Classic Revival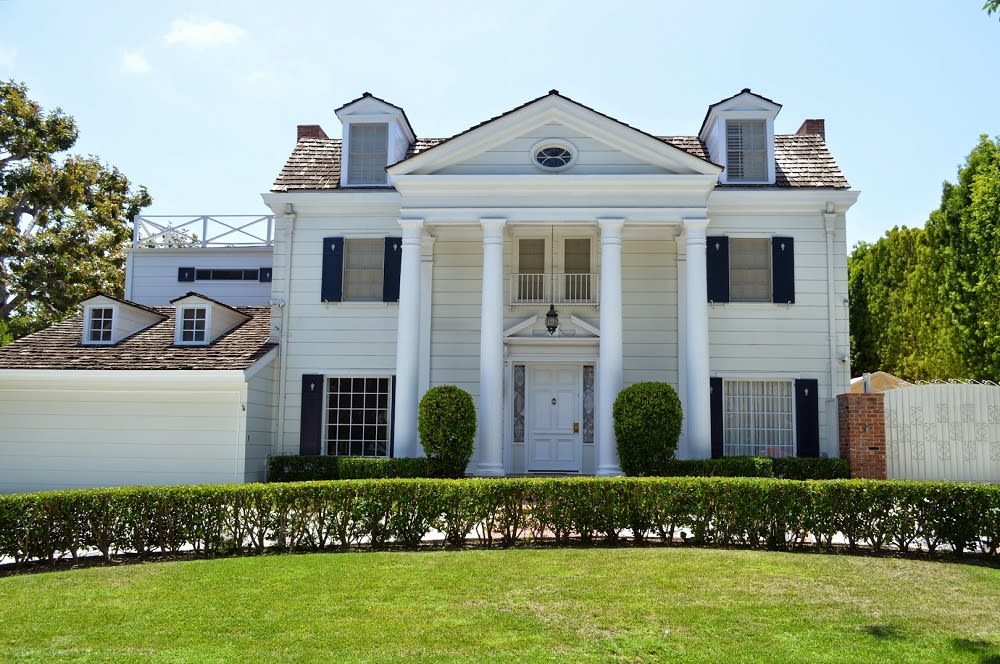 Photo courtesy of Shutterstock
Classic Revival, similar to the Federal Style of architecture found in the United States in the late 18th century and early 19th century, takes its design cues from Classical ancient Greek and Roman schools of design. Classic Revival dwellings can take Georgian or neoclassical architectural design elements to create stately homes with temple fronts, Doric or Ionic columns, and romantic porticos. Triangular pediments and temple fronts are overwhelmingly the most popular Classic Revival design element you'll encounter in
Oakville luxury homes for sale
.
Contemporary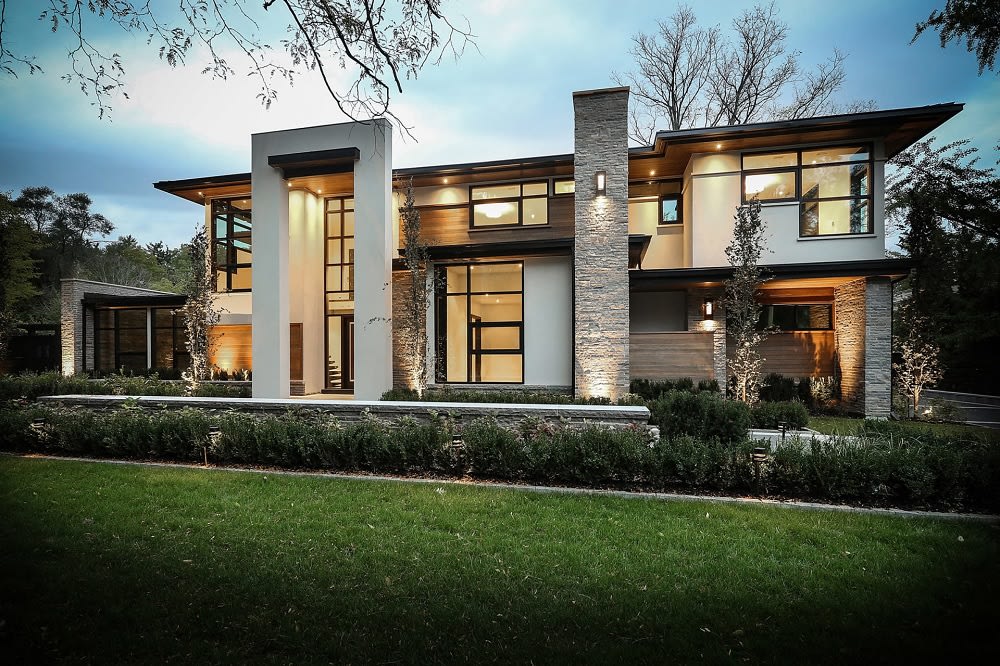 Photo courtesy of Goodale Miller Team

Buildings built after 1970 fall under the Contemporary style of architecture. Contemporary architecture is a very diverse style of architecture with influences ranging from Formalism to Modernism and International style. Contemporary buildings incorporate modern materials including steel and concrete as well as utilizing a variety of construction methods. Generally, Contemporary architecture is not overly-ornate, but could draw on French and Italian Renaissance or Classical influence for inspiration.
Edwardian Classicism
Emerging from the rejection of the High Victorian style of architecture comes Edwardian Classicism. Edwardian Classicism is a British architectural style that was a return to a more muted classicism. The complexities and ornamentation of High Victorian buildings make way for more simple forms of construction with the use of some Classical elements. Considered a transitional style between 19th-century eclectic styles to 20th-century Beaux-Arts Classicism, Edwardian Classicism uses stylized classical elements borrowed from an earlier Queen Anne style. Large verandas, a front gable with wrap-around porches, and side entrances grace Edwardian Classicism architecture.
Gothic Revival
One very popular style of architecture that reached its height of popularity in the 1850s and 1860s is the Gothic Revival style. Used heavily for Oakville mansions and residences, early examples of Gothic Revival drew inspiration from English Gothic, Elizabethan, and Tudor architecture, while later examples of this popular style of architecture used a wider range of inspiration including French and Italian Gothic architectural style. Features that distinguish the Gothic Revival style include pointed arch openings, gable and cross-gable roofs, varying window shapes, and decorative pinnacles and finials.
International Style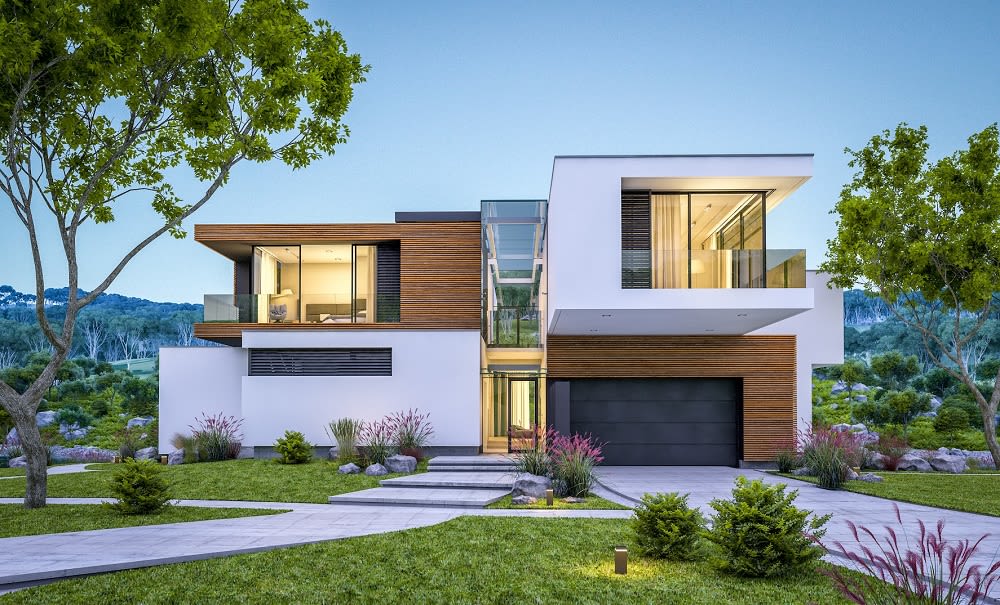 Photo courtesy of Shutterstock

International style, also known as Internationalism, is an architectural style that is closely related to Modernist architecture, and came into being in the 1920s and 1930s. These buildings use modern construction and materials and show influence from European Modernism, particularly from the industrial inspiration of Bauhaus. Construction is typically steel frame and curtain-wall and features cubic elements. Horizontal groupings of large windows are common with the International Style. International Style was not widely used in Oakville after World War II, however a large number of postal facilities built in the 1950s brought this style of architecture to communities across Ontario.
Italianate
The Italianate style of architecture was a quite popular style all throughout Ontario and used for both residential and commercial structures. Italianate architecture was born in Britain of John Nash in approximately 1802. Buildings of this architectural style have dramatic sculptural elements and materials that often use contrasting colors. You'll find ornate cornices, arched door openings, and large bay windows on the residential structures. Many elements of the Italianate style are based on Renaissance architecture, while other features along the roofline and corners of these structures, such as battlements and towers, take inspiration from late Medieval Italian construction.
Jacobean Revival
British architect, Edwin Lutyens, was a huge proponent of the Jacobean Revival architectural style. Jacobean Revival is a revival of earlier 17th-century English architectural styles, particularly those associated with the reigns of James I and Charles I. Although it adopts a Renaissance
style of architecture
in free form through German and Flemish carvers, rather than directly taking inspiration from Italian design, the Jacobean Revival kept the lines of Elizabethan design and employs a more unified application of formal design. You'll find columns, pilasters, flat roofs, and round arches in examples of this architectural style. You'll most often find Jacobean Revival in Oakville's country houses and estates routinely blended with Queen Anne style.
Mid-Century Modern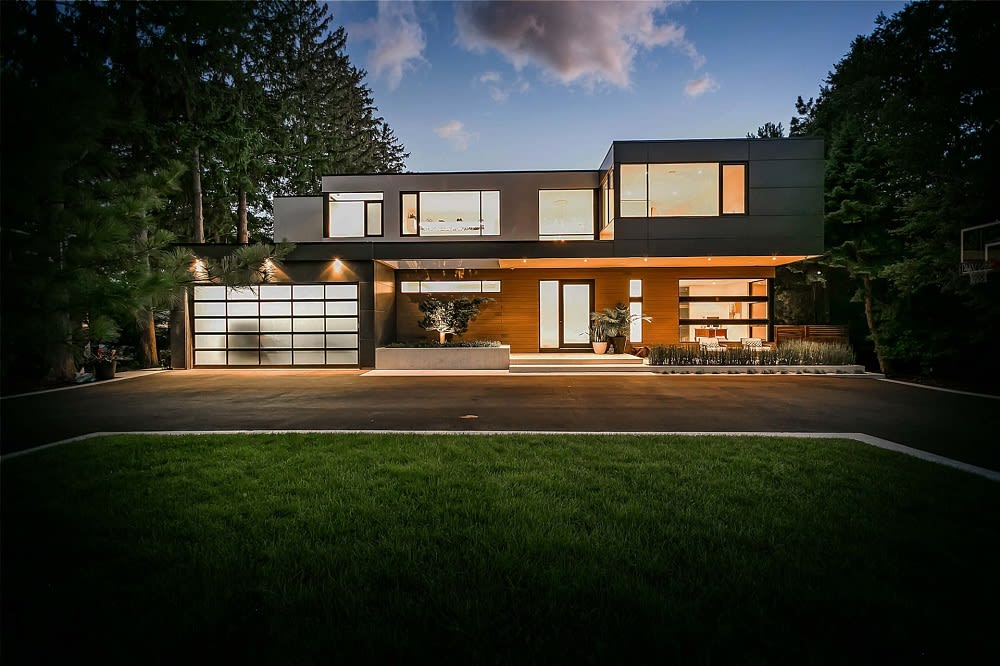 Photo courtesy of Goodale Miller Team

Mid-Century Modern style is arguably one of the most well-known styles of architecture and design found in North America. This funky, free form architectural style, inspired by European Modernism, came to be in the 1950s and 1960s and is similar to the International style of architecture. Rejected were the previous revivals and reiterations of earlier historical design styles. Much like counterculture movements of the same time period, Mid-Century Modern style explored the potential of construction and modern materials. Walls were no longer load-bearing. Open floor plans were the order of the day. Many residential home designers began to adopt this liberating style of architecture that eschewed more classical forms of architectural design in favor of more wide-ranging motifs and inspiration.
Queen Anne Revival
The Queen Anne Revival style of architecture may look familiar, it is because it is one of many styles that stemmed from the Victorian era. However, although Victorian-era architecture is a broad, encompassing umbrella term, it is different in many of the design elements that typify Victorian architecture. Despite Queen Anne having ruled over a century before Queen Victoria ascended the throne, Queen Anne style of architecture didn't come to be named after her until towards the end of the Queen Victoria era of architecture. The unique elements we see in this type of architecture include ornate wood decorations, a turret or tower, stained glass, and Oriel windows. While there are many differences with this style, we still see multiple elements being drawn from various movements of this time period being built into Queen Anne architectural homes, such as Gothic Revival.
Regency
Regency architecture was defined by the continuation of the resurgence of Neo-Classicism style prevalent in the Georgian era under King George III. The Regency Era is so named because of the Regent Prince who ruled after King George III was deemed unfit to carry the throne. During this time, the Prince of Wales defined the era by living a lavish, extravagant lifestyle and it reflected in the architecture.The finer features that distinguish this style from Georgian architecture include design elements such as stucco facades in pastel colors, ornate wrought iron details, curved windows, and wooden window structures. The doorways were adored with pediments, and colonnaded walkways, as well as curved windows, were the order of this particular architectural style.
Vernacular
Although the Vernacular style may be typified in part by the deeply sloping angular roofs depending on the locale, this particular style of building construction is actually found in examples from all over the world. It may be influenced by various architectural styles, but is not necessarily defined by one particular architectural style in specific. The emphasis with this style of architectural design is defined by its use of local materials and local craftsmanship. It is often defined by a particular region, and may range from simplistic to more ornate depending upon the area in which the structure is found. Much like local, spoken vernacular, Vernacular style is heavily influenced by a region's culture, yet may also borrow from architectural designers that came before it.
If you are looking to purchase an Oakville luxury home for sale, and take part in owning a piece of history, contact the
Goodale Miller Team
for a consultation today.

*Header photo courtesy of Goodale Miller Team